TresLife Healthy Hair Series Step 2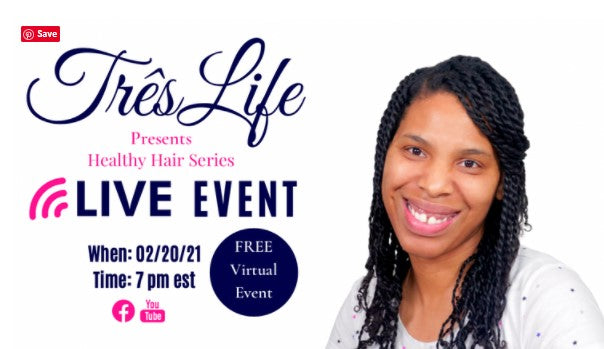 Thank you to all those that joined us in the TresLife Healthy Hair Series on Saturday!!! We see all of you that purchased the Moisturize Me Bundle, and are extremely excited for the healthy hair journey that awaits you. Get ready for EXTREMELY... MOISTURIZED.... HAIR!!! When you follow our regimen we are sure you will notice a difference in your hair and start to see how moisture directly impacts the healthy, vitality and length retention of your hair.
Moisture is such a huge topic and we tried to squeeze it all in 1 hour, but unfortunately we couldn't. But no worries we have all the information provided and more in the TresLife Healthy hair regimen planner. This planner is power-packed with expertise knowledge and the science behind hair, that is sure to change your hair journey for the better. Check out the details on our site: https://www.thetreslife.com/product-page/the-regimen-a-healthy-hair-planner
Check out the link below for the replay on our YouTube channel or Facebook page.
See you March 20th for Step 3!!!