What is TrêsLife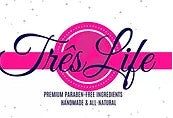 Welcome to our first blog post. We would like to begin by explaining What is TrêsLife.
What is TrêsLife?
Did you know TrêsLife (pronounced Tress-Life) was strategically named TrêsLife in relation to our mission statement?? Três represents the number 3, which represents whole or completeness. When you put Três(whole) + life together we get whole life. Ok this is no etymology lesson. But the name is bigger than what you currently see. We at TrêsLife have a mission to cater to the whole body using safe all natural ingredients, that support a beautiful external presentation without compromising your health.
We encourage you to check out the ingredients in your shampoo, conditioner, stylers, soaps and lotions and take note of any that have toxins that can cause an array of issues, ranging from infertility issues to cancers. Don't allow your cosmetics to be the culprit of not living a full life.
Healthy hair and skin is what we do!!!